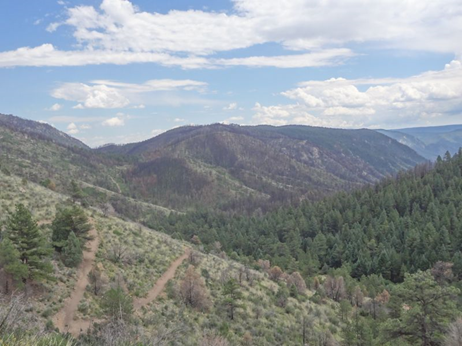 Our organization and planning for the 2017 Trail Days has already begun.  In May, June, and July we gain be partnering with Jefferson County Open Space (JCOS) at Reynolds Park for tread hinge point improvement, switchback rebuilding and impinging trees removal on the recently opened  on the Reynolds Park to North Fork Trail.  This trail project has:
Over 1,400 feet of change in elevation
Approximately 9.5 miles of varied terrain composed of recovering burned hillsides with spectacular views to rocky features on steep hillsides and Ponderosa canopy forest
In addition, planning discussions for a new trail from the middle of the Reynolds to N. Fork trail to Sec. 2 of the CT have demonstrated movement for consideration with JCOS & Denver Water.
In addition, maintenance and new trail projects have been identified in the BCRA of the Pike National Forest to the S. Platte Ranger District:
Upper Morrison Creek Trail
Green Mountain Trail
Gashouse Trail
Two new Trail Proposals to S. Platte Ranger District – Spring Creek to Sec. 2 of the CT & South to Oxyoke on the main stem of the S. Platte
Trail Days for 2017 are: May 20th, June 17th, July 15th and the Epic at Buffalo Creek mountain bike festival the weekend of September 15th-17th.  Online registration for the first three Trail Days will be available April 2017 and the Epic at Buffalo Creek will be available in early August 2017.  Mid-week trail day events are in the planning stages and will be scheduled for August 2017.  Make plans now in your calendars to come out, join us and have some fun building and riding new, challenging trail to demonstrate MTB's, youth group's, runner's and hiker's passion for giving back to our local community!