In 2007 the Trailblazers documented 655 volunteer hours to the S. Platte Ranger District, USDA Forest Service (USFS) and an additional 42 hours to Jefferson County Open Space.  Those 655 volunteer hours amounts to $12,779 in volunteer time contribution to the USFS resulting in 2.8 miles of completed new trails in our first year including Buffalo Burn trail and about half of Redskin Creek trail.
While our objective in 2008 was a conservative increase in our documented volunteer hours to 747, this was at year's end exceeded by nearly 26% with 938 total volunteer hours.  930 of those hours were dedicated to USFS in the Pike National Forest a volunteer time value of $18,833.  In the BCRA, the Trailblazers have been successful in completing Redskin Creek trail while concurrently getting approval for and subsequently initiating construction on a new trail project, Nice Kitty, of over four miles.
Our volunteers' efforts in 2009 were incredibly successful!  The challenges of boardwalk and switchback materials and tools transportation to the field, and construction, were met with highly improvised solutions from our volunteers.  At the end of the season, an outstanding 996 Volunteer Hours were documented to USFS including an additional .8 miles of new non-motorized tread requiring significant armoring through very challenging rocky terrain.
For 2010, we again enjoyed a successful year.  Volunteer time contributed to the USFS increased to 1,075 hours, and another seven tenths of a mile of challenging non-motorized tread was constructed within the Nice Kitty trail corridor.  In addition, another stoutly constructed boardwalk was installed.
During late winter of 2011 our Board of Directors made a decision to change things up a bit with a new name, logo and website for the organization that will provide opportunity for the Colorado Trailblazers organization to move forward and grow in execution of its mission.  The Trailblazers' 2011 Trail Days have inspired our greatest number of annual documented volunteer hours to-date, i.e., 1,226 hours, and produced one mile of exemplary trail tread.  In addition, all funding for a substantive trail bridge over Buffalo Creek and the associated flood plain was secured.  Combined with about one-half mile of trail, the Nice Kitty Trail Construction Project was completed in 2012 and the associated trail bridge was completed in April of 2013.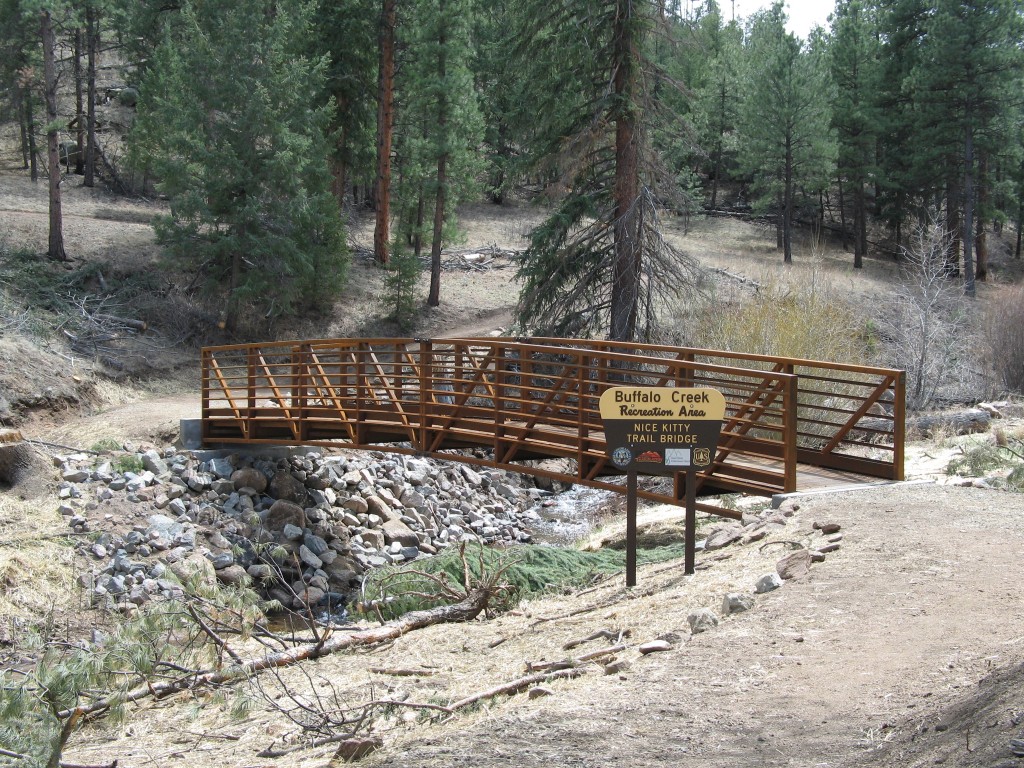 Through the first 10 years since inception the Colorado Trailblazers have:
Inspired volunteer's passion with our mission.
Secured the engagement and documentation of 9,400 volunteer hours to land managers.
Successfully engaged youth volunteers from 18th Judicial District Juvenile Diversion Counseling Program and Groundwork Denver to work along-side seasoned adult volunteers in a team environment
Built 7.3 miles of sustainable, challenging trail tread, (3) boardwalks and a 50 ft. trail bridge in the Buffalo Creek Recreation Area of the Pike National Forest
Through 2013 and 2014 we have partnered with Jefferson County Open Space (JCOS) completing a new 9.5 mi. trail from their Reynolds Park facility to the confluence of the North Fork and the main-stem of the S. Platte River for a successful opening on 10/11/2014.
Through 2015 and 2016 the Trailblazers again partnered with JCOS at Reynolds Park to rebuild five switchbacks and several eroded drains on Hummingbird Trail and three switchbacks on the Reynolds to N. Fork Trail. In addition, we successfully re-routed lower & upper Morrison Creek Trail in the BCRA developing 2,477 ft. of sustainable trail while reclaiming 1,581 ft. back to the forest for the S. Platte Ranger District, USFS.
Documented a contribution of 9,400 volunteer hours benefiting our local community which includes "at-risk" and urban youth development programs.
Established  and maintained respected relationships with the S. Platte Ranger District, USFS and JCOS land managers.